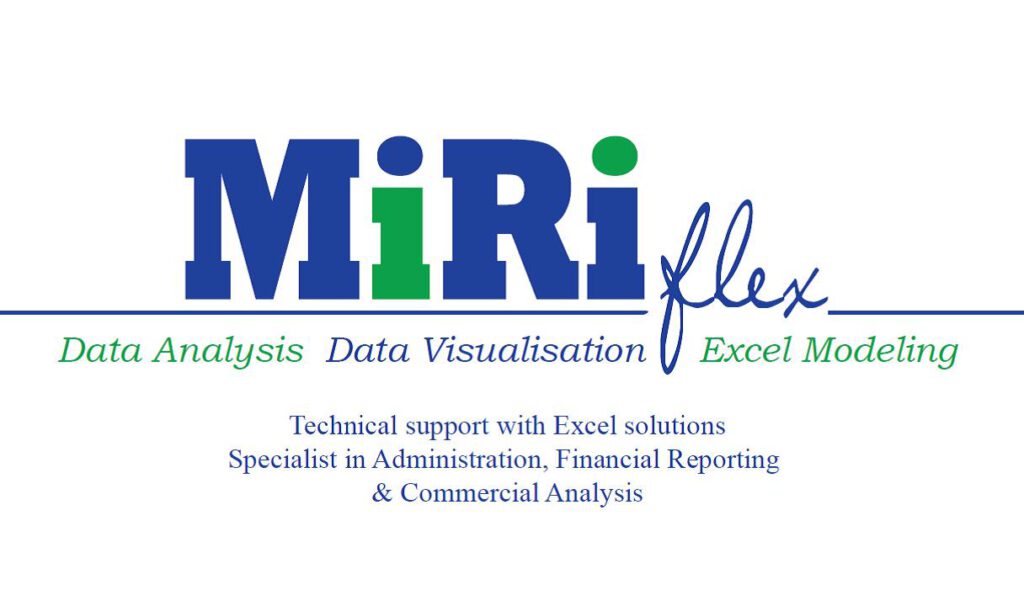 About MiriFlex
Do you need an immediate, short-term specialist in your company?
Do you need an Excel professional in your complicated projects?
MiriFlex could be your partner in business as:
Over MiriFlex
Heeft u een interim specialist nodig om uw tijdelijke probleem op te lossen?
Heeft u extra handjes in Excel nodig bij ingewikkelde projecten?
MiriFlex biedt u de volgende diensten:
Curriculum Vitae of Susanna Chong
PERSONALITY
Financial background with commercial heart, professional and objective, sparring partner, hands-on, rapid learner and fast adaptor.
SOFTWARE
Microsoft Office:
Advance in Excel (Complex calculation, Macro VBA, Power Query, Power Pivot, DAX, Interactive BI-dashboard, scenario modeling, Monte Carlo risk analysis), Word, Access
BI Reporting:
Power BI, MicroStrategy, Business Object XI, Cognos, Hyperion Essbase
Analytics:
R, Python, SQL
ERP system:
ProFashionAll, Microsoft Navision, Oracle Cloud, SAP
Other:
Adobe Photoshop, Window Movie Maker
LANGUAGE
Mandarin – native
English – fluent in oral and written
Dutch – fluent in oral and written
Malays – good
EXPERIENCE
Interim Professional / BI Consultant, September 2015 – current
MiriFlex Consultancy
Commercial Controller, September 2013 – August 2015
Brova Group, Schijndel
Regional FP&A Analyst, May 2012 – June 2013
GE Healthcare, Eindhoven
Accounting Specialist, April 2011 – April 2012
Unique Technology Europe (Unitech), Tilburg
Assistant Accountant, January 2008 – March 2011
De Leeuw Belastingadviseurs / M&L Services, Eindhoven
CERTIFICATION
AZ-900 Azure Fundamentals
DA-100 Analyzing Data with Microsoft Power BI
DP-200 Implementing an Azure Data Solution
DP-201 Designing an Azure Data Solution
ACCOMPLISHED MASTER COURSES
Brand Management, Business Intelligence & Data Management, Business Research Technique, Conjoint Analysis (CBC), Consumer Behavior, Consumer Analytics, Customer Insight Through Surveys, Experimental Research, Market assessment, Marketing Channel Management, Marketing Communication, Marketing Models, Quantitative Models in Marketing, Research in Social Media, Strategic Marketing Management, Structural Equation Modeling for Business and Economics
EDUCATION
Microsoft Azure Certified Data & AI-track
Techionista, June 2020 – October 2020
Master Marketing Analytics
Tilburg University, February 2017 – August 2018
Pre-Master Marketing Analytics
Tilburg University, September 2016 – January 2017
Bachelor of Economics, Accountancy
Fontys Hogeschool Eindhoven, September 2007 – August 2012
NT2 Nederlands als Tweede Taal (level B2-C1)
ROC inburgeringscursus, Januari 2006 – April 2007
Health Education
National Taiwan Normal University in Taiwan, 2003 – 2005
LCCI Accountancy Courses
Certificate: Higher Accounting and Costing Accounting
Miri Business College in Malaysia, 1994 – 1996
Riam Road Middle School (RRMS) in Malaysia, 1988 – 1993
Diploma: equivalent to HAVO (Chinese, English, Malays, General & Advance Mathematic, Chemistry, Biology, Physic)

Company Registration
Dutch Trade Register
KvK 58204377 Eindhoven
VAT NL0024.50.839B31